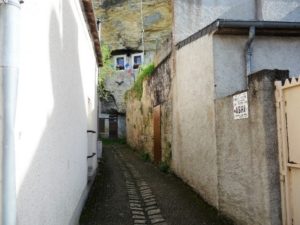 I had been looking forward to seeing the Chateau where Leonardo da Vinci lived the last years of his life, Le Clos du Luce.  The Clos du Luce had a great workshop with examples of what da Vinci had invented.  The gardens showcased some of his inventions as well: a portable bridge, treadmill, waterwheel, etc. He ended his days in a beautiful Chateau with great gardens.  Da Vinci is buried in his own separate chapel with a large headstone on the grounds of the Chateau d' Amboise which overlooks the Loire River and the town of Amboise…very picturesque.  In the town of Amboise on the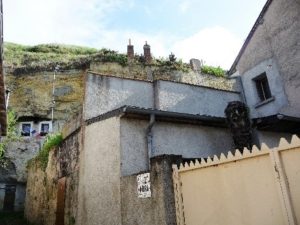 Loire River, I stayed in a large chateau with a converted stable and a central courtyard containing gardens…. very charming.
In the City of Amboise, walking to the Clos du Luce, I noticed caves in the cliff, some with painted front doors, windows, shutters and flower boxes. After widespread quarrying of the tuffeau in the hills began in the 11th century and created cavities in the hills and plains, people moved into these areas/caves. Some moved in to escape warfare, others because the caves made convenient, low-rent dwellings. Until the early 20th century, many people lived in these so-called troglodyte homes. Entire villages were underground. Some people still live in the caves, and others are finding new uses for them.
Chateau d'Amboise